Dropout changes are some of the most complicated modifications that we perform, and they are becoming a more common request as so many vintage frames built with durable materials outlast the axle and brake standards of their day. This is especially the case with titanium frames.
A big part of the complication is the sheer variety of dropouts in circulation. Unlike head tubes, bottom bracket shells, main tubes, and other frame components that have traditionally been widely standardized and used more or less interchangeably on frames across all disciplines (the stalwart BSA English bottom bracket can be found on the vast majority of road, mountain, track, tandem, and even recumbent bikes built over the last half century), chain-stays and dropouts are key frame components made in a plethora of shapes and sizes that were often tied to a specific application or bike type. Dropouts are generally designed for a specific functionality and axle/brake/spacing standard and are shaped accordingly.
A bike frame's rear triangle is in turn designed and built around those stays and dropouts. The lengths, angles, and shapes of the chain- and seat-stays are set relative to the interface and dimensional requirements of the specific dropouts. This frame/dropout compatibility ensures that the rear axle is placed in a precise location; changing that location by even a few millimeters can noticeably impact the handling of the bicycle, not to mention creating the potential for interference issues with brake calipers, cassette lock rings, and other component parts that are subsequently designed to reference the rear axle location.
It is easy enough to consider a number of dropout styles when designing a frame, before the tubes are cut. But when it comes to retrofits the details of the original rear triangle design become variables that preclude simply cutting one dropout out and welding another one in. This is especially the case when the retrofit is intended to change the application/format of the frame: from a vertical road dropout to a horizontal track dropout; from a fixed non-disc quick release dropout to an adjustable thru-axle disc brake dropout, et cetera.
Different styles of dropouts -- especially those designed decades apart for different axle, brake, and spacing standards -- rarely have similar shapes, lengths or angles, which ultimately means that the replacement of entire chain-stays and/or seat-stays are often required to keep the rear axle in the same location.
For an example, see the images below, showing the complications with one of our most common requests, converting a traditional 130QR rim brake frame to a 142x12 disc brake frame with the Reynolds R3D flat mount dropout. The impediments to an easy conversion are numerous and obvious.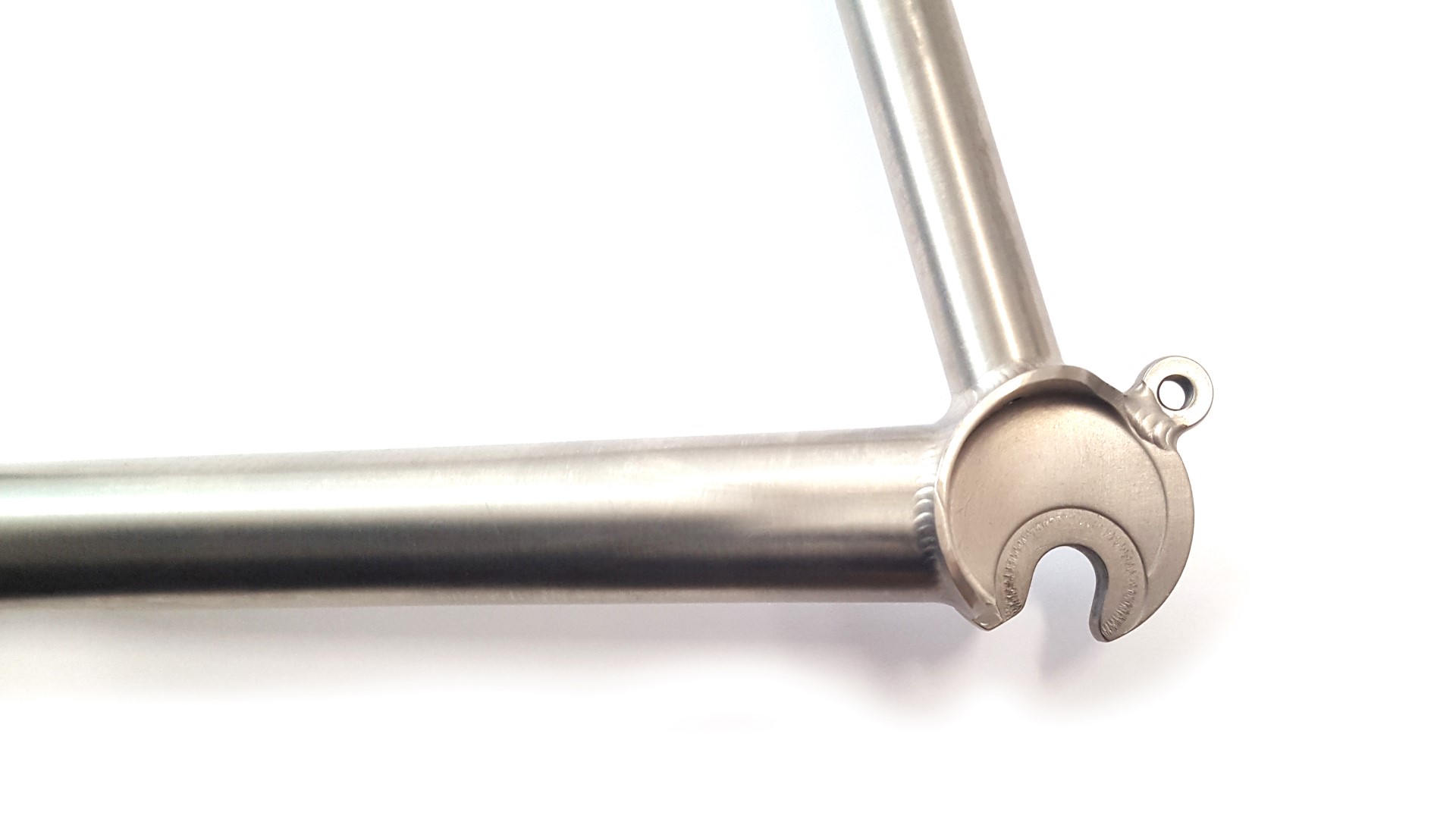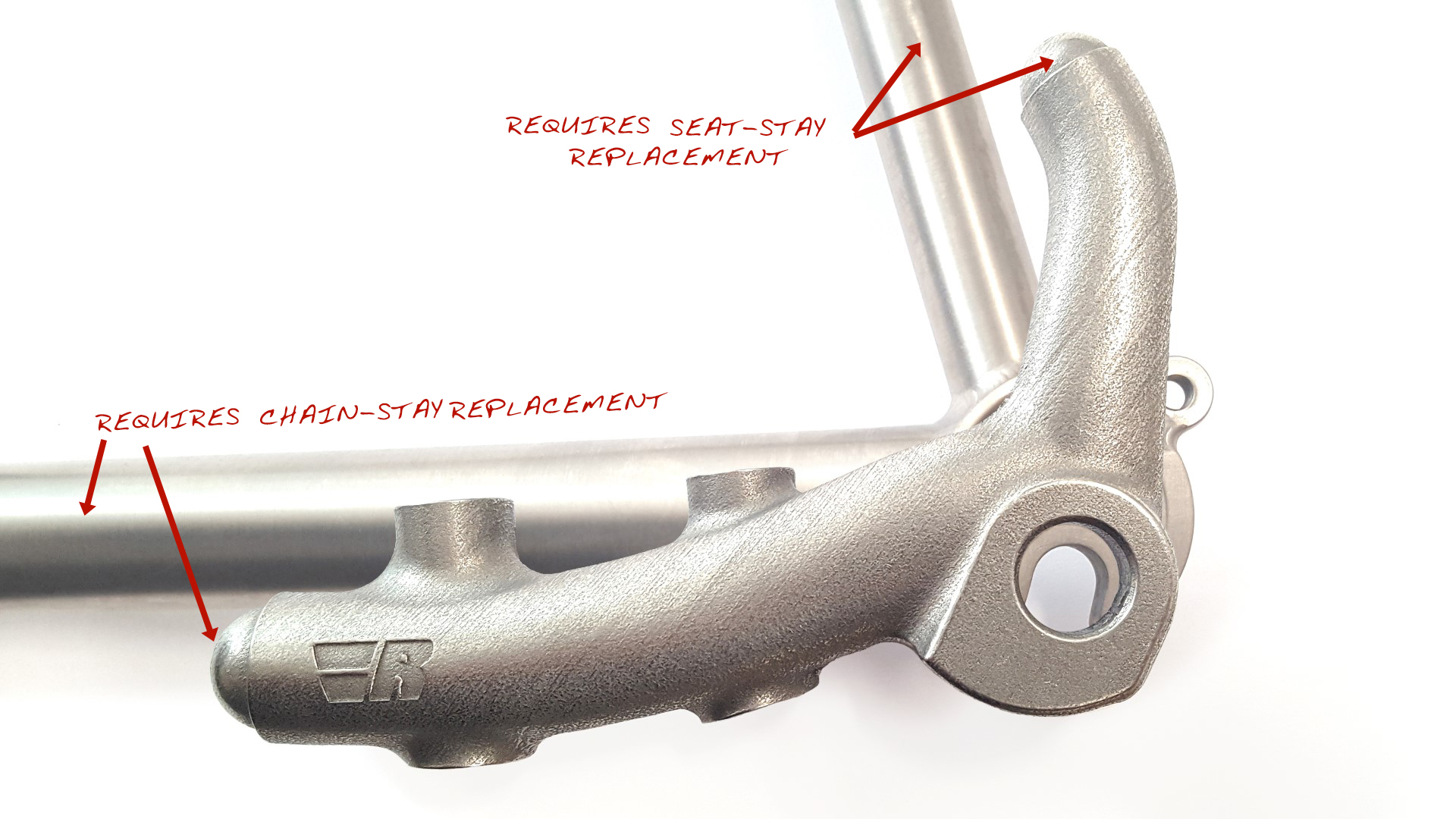 That said, Yes! we can update your existing frame with dropouts of almost any style!
While it will likely not be simple or easy, we do provide dropout conversion services and are happy to accommodate any requests, including any custom dropout fabrication, chain-stay and/or seat-stay replacements that the retrofit might require. It is also worth noting that some dropout retrofits, especially when tied to converting a non-disc brake frame to disc, offer the potential for not insignificant cost savings when changing to dropouts with an integrated disc caliper mount, eliminating the cost/need for a separate disc brake conversion.
To inquire about converting your specific frame to a new dropout please send an email with information on your bike, along with photos, as well as your end objective and budget.
We are here to help!